Liposuction, also known as liposculpture suction or lipoplasty, is a cosmetic procedure that is used to remove body fat by breaking up the fat and sucking it from the fatty parts of the body. It can slenderize, reshape and sculpt a variety of areas throughout the body like abdomen, buttocks, hips, outer and inner thighs, inner knees, upper arms, neck, chin, back, flanks and chest. The procedure uses a hollow instrument called a cannula which is inserted under the skin with a high-pressure vacuum attached to it. The result is a slimmer and more proportionate body.
It helps to sculpt the body by removing unwanted, stubborn fat and is one of the most common surgeries performed in the United States. The main purpose of liposuction is cosmetic for fat loss, but it can also be done for medical conditions as part of surgical treatment. Gynecomastia, lipodystrophy syndrome, lipomas, and morbid obesity are some of the examples of medical conditions that require liposuction. It should be noted here that liposculpture is slightly different from liposuction and pays more emphasis on the aesthetic outcomes with greater required physician care.
Eligibility criteria for liposuction
A healthy person with 30% of ideal body weight, firm, elastic skin, and a good muscle tone over the age of 18 makes a good candidate for this procedure. On the other hand, a person with diabetes or a compromised immune system or any circulation disorders should undergo this procedure with close medical monitoring.
Also Read: Liposuction: Certain Facts You Can't Do Away With
Cost of liposuction
The overall cost of this procedure roughly ranges from $2,000 to $3,500. This cost is impacted by several factors such as the number and size of affected sites, type of the chosen liposuction procedure, and individual fee of the surgeon. It is important to keep in mind that since insurance companies don't consider liposuction to be medically necessary, they don't cover the cost of this procedure. Hence, discuss the cost and fees in detail during your consultation with the surgeon.
Top Three Places For Liposuction In Ventura County, California
The top hi-definition liposuction and body contouring clinics in Ventura County and surrounding areas are the following-
1. LUXE AESTHETIC SURGERY AND MEDICAL SPA
It is one of the top-ranking body sculpting and liposuction centers in Ventura County that offers the most advanced and minimally invasive treatment methods with fine medical care. They perform a variety of liposuction techniques such as Hi-def liposculpture, Tumescent Lipo, SmartLipo (laser-assisted liposuction), Mini Lipo, and Vaser liposculpture in Ventura with utmost skill and brilliance. Other body contouring procedures like breast augmentation, tummy tucks are also performed here according to the individual body preferences and lifestyle. They are acclaimed to be one of the best and most visited centers for liposuction and liposculpture with the experienced and qualified surgeon performing this procedure with finesse. They also offer advanced treatment modalities such as bio cellular therapies and regenerative medical treatments for best aesthetic results. Dr. Shah is an outstanding cosmetic surgeon who personally stays in touch with the patients to answer any questions or queries about the procedure. They create a healthy professional environment and make sure that their patients feel comfortable and relaxed throughout the procedure.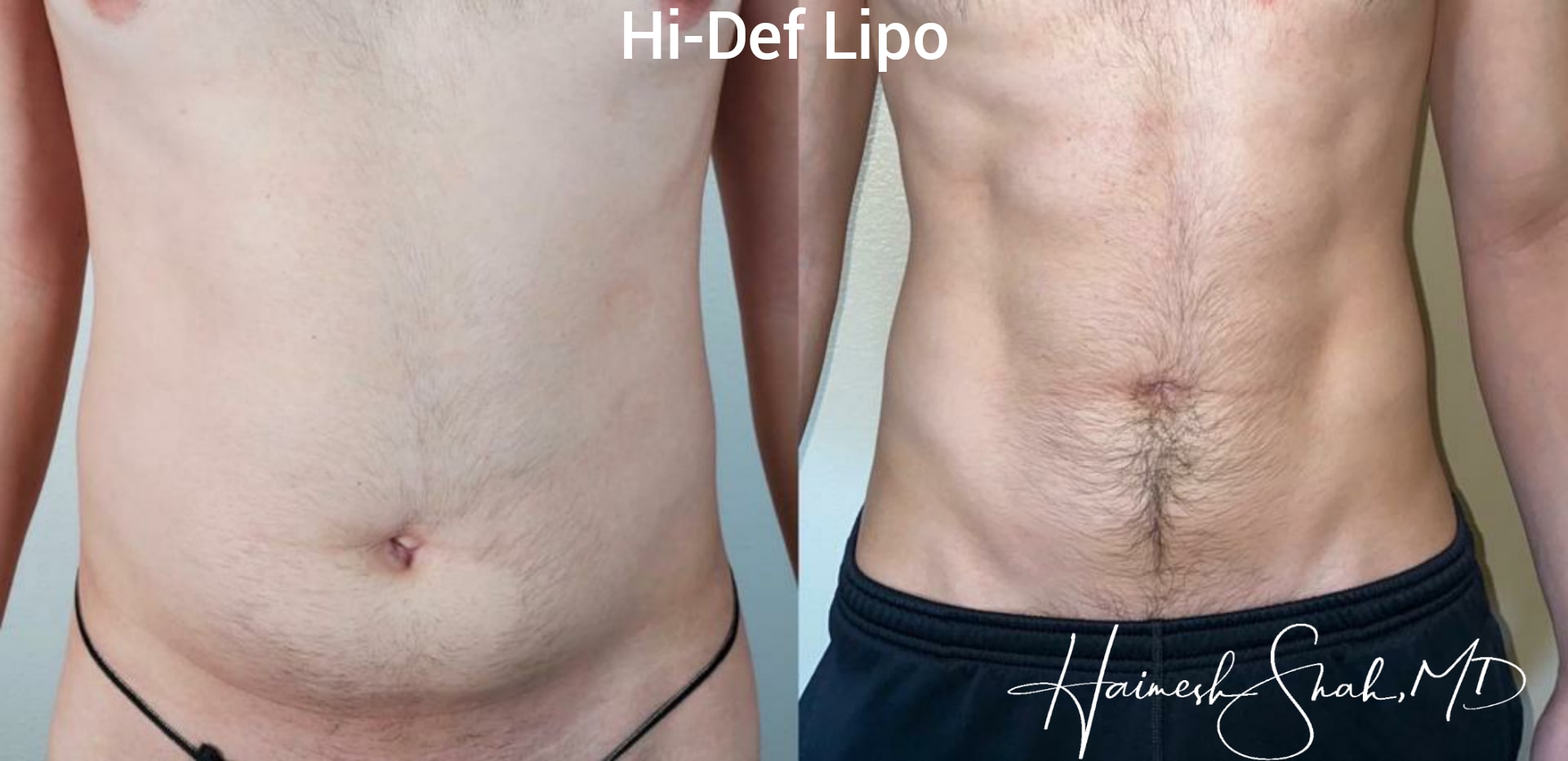 Website: luxeaestheticsurgery.com
Contact:(805) 500-6589
Address:3180 Willow Ln #212, Thousand Oaks, CA 91361
HAIMESH SHAH, MD, RPVI
Dr. Haimesh Shah is a highly experienced, triple board-certified physician who specializes in phlebology, cosmetics, and laser surgeries. He is a highly qualified aesthetic surgeon who has been performing liposuction and body contouring procedures with the most beautiful and best natural results for years. He performs Hi-Definition liposuction and body contouring surgeries at the Luxe Aesthetic Surgery and Medical Spa and is famous for these particular specialties. Having learned a variety of aesthetic procedures from globally recognized surgeons, he carries out most of them with great confidence and a commitment to perfection. His firm grip on body sculpting techniques along with years of skill and experience makes him the first choice for those who desire body aesthetics. He believes in the doctor-patient relationship and ensures a comfortable and professional environment. He makes his patients feel secured and guides them through every step of the procedure and stays in contact with them during the recovery phase.
Website: luxeaestheticsurgery.com/about/dr-haimesh-shah/
Contact: telephone and fax
T: 805.500.6589
F: 805.653.5248
Address: 3180 Willow Ln #212, Thousand Oaks, CA 91361
Dr. Shah from Luxe Aesthetic Surgery and Medical Spa is one of the most acclaimed providers of cosmetic services in Ventura County and surrounding areas of California. In fact, this is the only Hi-Definition Liposculpture clinic in all of Ventura County. Women from all over have received excellent body aesthetics here and are highly satisfied with their surgeon and procedure.
Also Read: How To Get The Best Treat Hand Rejuvenation?
2. MICHAEL R. SCHWARTZ, MD
Dr. Michael R. Schwartz is a highly experienced and skilled plastic surgeon who is an expert in body, breast, and facial cosmetic surgeries. He is known for his years of experience and skill in cosmetics and body aesthetics including liposuction, breast augmentation surgeries and male cosmetic procedures. He also provides non-surgical treatments such as Botox cosmetics, dermal fillers, and laser skin resurfacing for reducing facial imperfections.
Website: www.drschwartz.com
Contact: (805) 706-0742
Address: 4373 Park Terrace Dr. Suite 101
Westlake Village, CA 91361
3. PICKART PLASTIC SURGERY
MICHAEL C. PICKART, MD, FACS
Dr. Michael C. Pickart is a competent and skilled plastic surgeon who specializes in cosmetic and reconstructive surgeries. He is widely known for his brilliance in breast augmentation surgeries, body contouring, and facial reconstructive procedures as well as male procedures. He is an expert at performing liposuction, Botox, breast lift, and tummy tuck and has received many professional recognitions for his work.
Website: www.pickartplasticsurgery.com
Contact: (805) 232-5688
Address: Pickart Plastic Surgery
3438 loma Vista Rd, Ventura, CA 93003
Frequently Asked Questions
Here are a few FAQs that will answer any questions that you have in mind about the procedure.
Is liposuction a safe surgery to do?
Generally, liposuction is considered to be a safe surgery, especially if post-operative complications are avoided by optimizing post-operative care.
Other than that, every surgery has risks associated with it and no surgery is guaranteed 100% free of complications.
How long does the recovery period last?
The exact recovery time differs from patient to patient and depends on factors like health status, compliance to post-operative care, support system, and others.
Generally, you can resume normal activities like going to your office a week after the treatment. However, you should avoid lifting heavy weight for at least a month after the treatment. Discomfort and swelling might also be present for about a month after the treatment.
Will I feel pain after the surgery?
Yes, it's normal to feel a certain degree of discomfort and pain for up to 5 days after the procedure. However, it subsides and you should recover soon.
Will there be any leftover scars on my skin after the surgery?
Modern liposuction surgery in Ventura does not require big incisions. Only small incisions for insertion of cannula are required, which are hardly noticeable. Therefore, you're very likely not going to have any scars after the surgery. However, if you suffer from keloids or other skin healing abnormalities, you should let your surgeon know before-hand so they can optimize post-surgery wound healing and prevent scars.
Which anesthesia is required for liposuction surgery?
With advancement in technology and surgical skills, majority of the liposuction procedures are performed under local anesthesia with or without sedation, which avoids general anesthesia complications.It also depends on the comfort level of your treating surgeon. You should discuss this with your surgeon as he knows what's best for you.
How long does the procedure normally take?
The procedure takes anywhere about an hour to 3-4 hours. This, once again, depends on the area you're targeting. If the area is big and difficult to access, it can take more time.
Is it an outpatient procedure or will I have to stay in the hospital overnight?
It's usually an outpatient procedure, but if you're targeting a large area, you might be required to stay overnight. Your surgeon will be able to tell you more about this. Make sure you discuss it with him before opting for the surgery
Can I gain weight again after liposuction or is it permanent?
Yes, you can gain weight after getting liposuction done.
Liposuction changes your body contour permanently. The many fat cells that are removed will never grow back. However, if you do gain weight after liposuction, your body's contour will still remain more or less the same, and it will increase in its relative size. The shape will more or less be the same but the size will increase if you gain weight.
Make sure you discuss and clear out all questions you have with your surgeon before going for the procedure. Good luck!